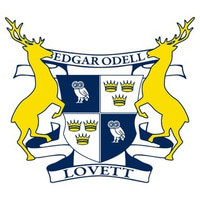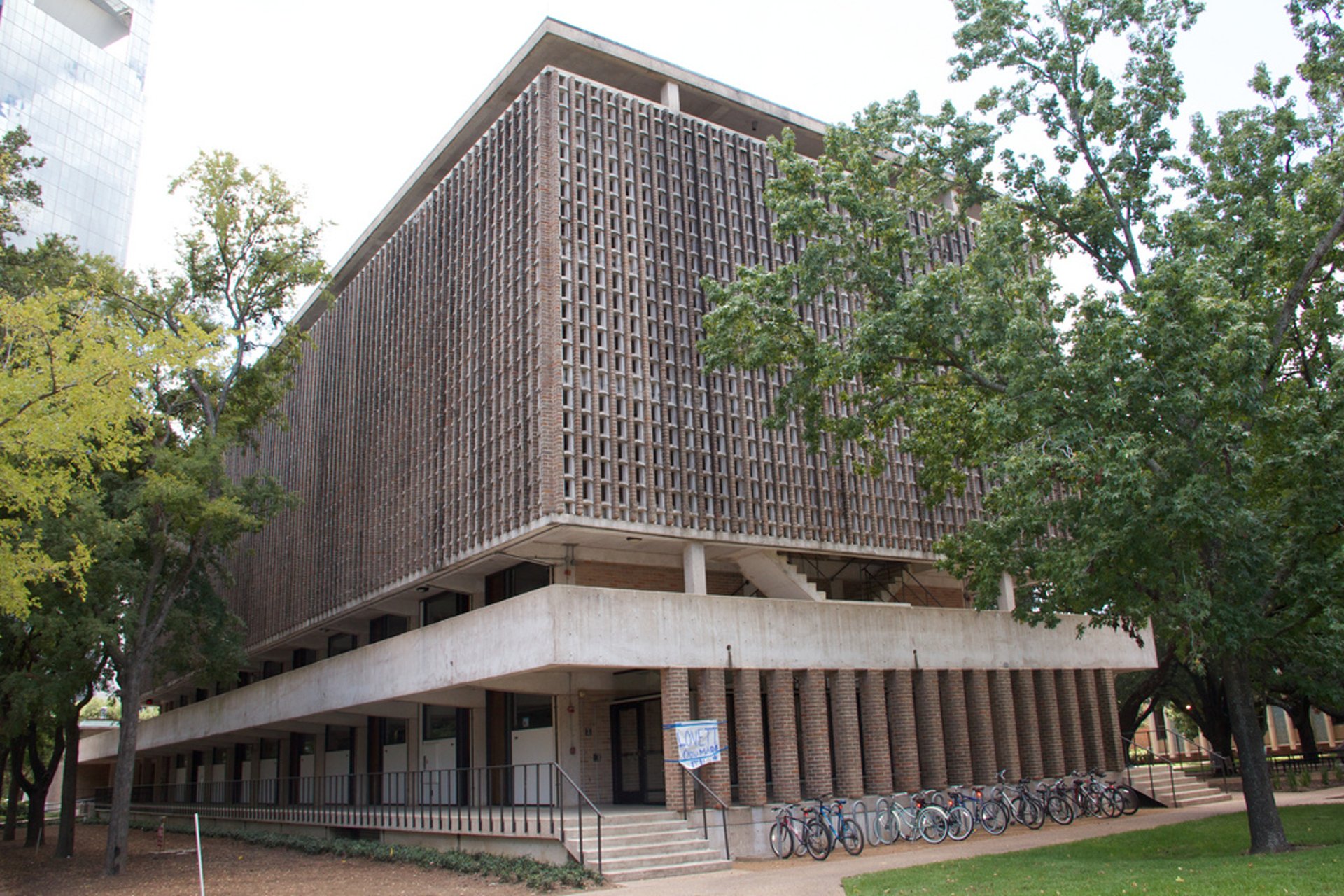 Lovett has one elevator that provides service from the basement to the fifth floor—residents of the Toaster's sixth floor trade their elevator service for natural lighting. Legend has it that the elevator was designed not to reach the top to prevent protesting students from throwing couches over the grating.
At Lovett, all suites are attached to bathrooms shared by the members of the suite (no communal bathrooms, yay!). The most common set-up is the quad suite which consists of two 13' x 15' doubles on either side of a bathroom. Rejoice in the private bathrooms, as not all residential colleges are lucky enough to have them! Additionally, there are five suiteless doubles which consist of a 13' x 15' room attached to a bathroom and seven single suites which consist of two singles on either side of a bathroom. Finally, the Stinky Suites contain three eight-person suites, which consist of two sets of two sets of doubles attached to common rooms on either side of a bathroom.
Lovett is made up of four main buildings: the six-story residential Toaster that many of us know and love; a residential building made up of eight-person suites (formerly belonging to Baker College) which also houses the RFAs; a magisters' house; and our beloved Commons.
Located on Lovett's second floor (home of the best parties at Rice) next to the staircase is our fabulous sundeck. Outfitted with cozy chairs, a hammock, and a table, the Sundeck is a great place to relax, tan, or socialize. Lovett events like the graduation party and College Nights happen on the Sundeck!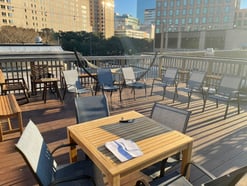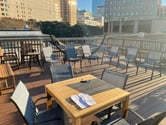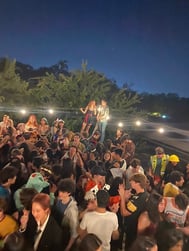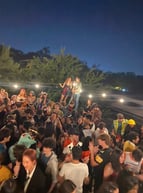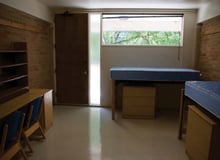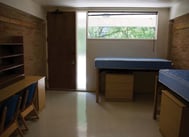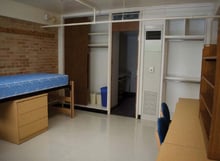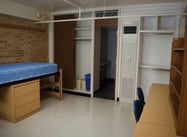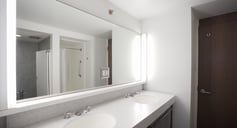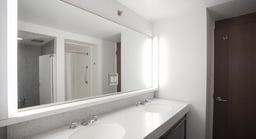 All of the college's mail and packages are dropped off at the mailroom. Meticulously organized on occasion only to quickly descend into chaos once more, you're best served by grabbing your packages as soon as they reach the top of the pile. Attached to the College Coordinator's office, you can also pop in while checking your mailbox to say hi to Sharon!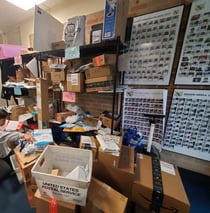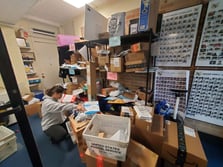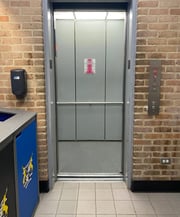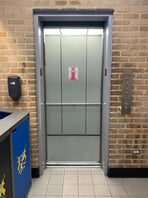 Upper Commons is where most Lovetteers eat their meals, but it's also a space for studying and socialization. Attached to the Kitchen and PDR, most casual Lovett events take place in Upper Commons. The space is also directly connected to Seibel Servery, the cafeteria shared with Will Rice and Sid Rich Colleges.
Lower Commons is a lounge area with a selection of comfy couches, the nicest pool table on campus, ping-pong, foosball, and two TVs (one set aside exclusively for Smash Bros and Mario Kart). Additionally, Central Committee (Lovett's government) holds its meetings in the Lower Commons every Tuesday at 10 PM.
Lovett's Commons are where you'll spend most of your time eating, studying, and just hanging out with friends. Our Commons are split up into two sections: Upper Commons and Lower Commons.
When traversing between Upper and Lower Commons, one must pass through the one stair in between: Middle Commons. Middle Commons neighbors the two Commons bathrooms and is the setting of Lovett's Middle Commons Ball!
Private Dining Room (PDR)
In between Upper Commons and Seibel Servery is the Lovett Kitchen. It has a fridge, stove, and microwave so you can create your own culinary masterpieces (or warm up leftovers).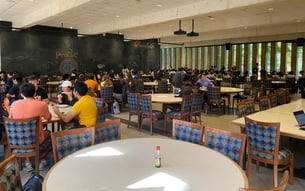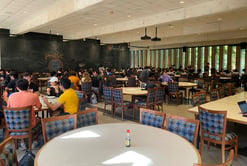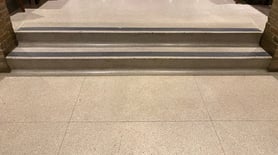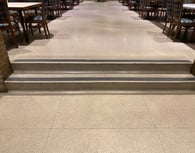 Only Lovetteers' IDs can swipe into the PDR—though often used for event storage purposes, the PDR can be reserved for club meetings, events, and even classes!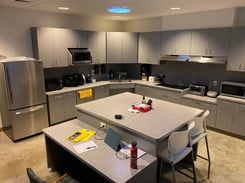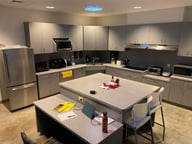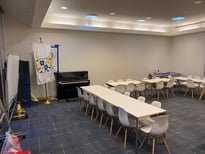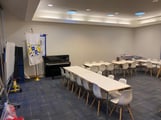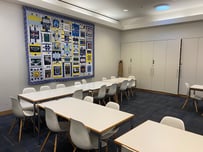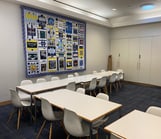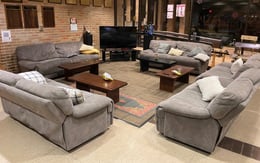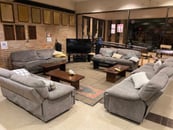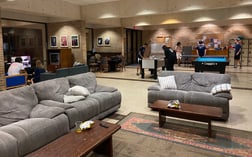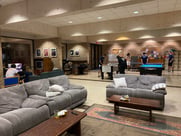 In contrast with the brutalism of the Toaster (though we think it's beautiful), the Quad is a scenic hub for Lovett events such as Fun Fridays, grilling, and s'mores over the fire pit. Equipped with assorted tables and chairs (including a canopied picnic table swing), the Quad is the perfect outdoor spot to study, eat a meal, or toss around a frisbee.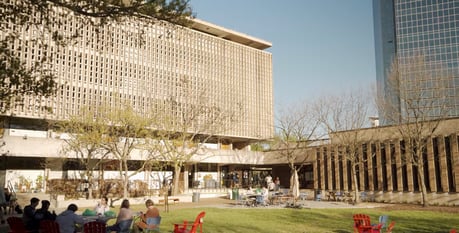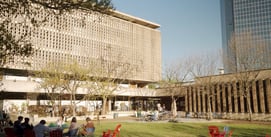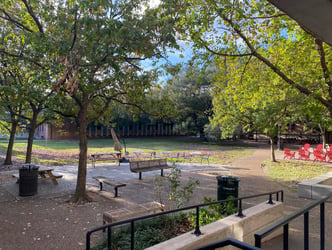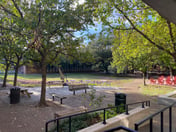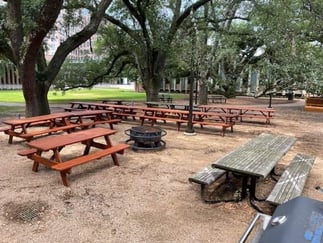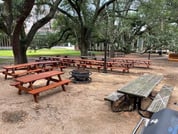 Lovett prides itself on having one of the biggest basements on campus, found directly beneath the Toaster and Commons. Rumor has it that the basement system was designed as a bunker in case of nuclear attack, but today it mostly serves as an extensive collection of underground spaces for Lovetteers to study and hang out.
The Wiener Hole is a dedicated Lovett study space. It contains a variety of books and textbooks (many leftover from Lovett alumni over the decades), as well as comfortable chairs for those late night study sessions when you don't want to take the walk to Fondy.
Blue Room is creatively named so because the walls, though no longer painted a bright blue, were blue for a very long time, and we hold on to our traditions dearly. Blue is still the overwhelming theme to the decor in the room. This large space serves as a lounge area with couches, tables, and one of Lovett's pianos. Additionally, it is connected to the Off-Campus Lounge and the Movie Room!
The Movie Room (Film-Watching Room) is decked out with cushy reclining seats, a giant (questionably clean) beanbag, and a projector/speaker system perfect for watching late night flicks with friends or massively enlarging your video lectures.
Located directly across from the Wiener Hole is the Computer Room, which, like the name would suggest, contains a bunch of computers—half Mac and half PC. Additionally, it has a black and white printer (7¢ per page), which often comes in handy for printing out assignments for class.
The Off-Campus (OC) Lounge is meant for off-campus Lovetteers to relax, study, store their stuff, or even spend the night. However, all Lovetteers may use the lounge if they ever need a quiet space—just make sure nobody's already inside taking a nap!
Laundry is free at Rice, how convenient! Venture into the northernmost point of the basement and you'll feel the humidity rise as you reach the Laundry Room. Organization is the name of the game here—Lovett has its own Lovett Laundry GroupMe to keep clothes from sitting in machines.
Down the Commons-side stairs and to the left is the basements south wing, home to Lyle's, a bar-performance-esque space. Events and performances often take place in Lyle's, hosting both Lovetteers and the general Rice community alike. Fun fact: Lyle's was the original home of Pub, as well as where a former Lovetteer founded St. Arnold's Brewery.
The Music Room is unique to Lovett, and also recently upgraded with a keyboard, guitars, a bass, an electronic drum kit, soundproofing, and more! Practice for an audition or jam out with friends while surrounded by tasteful mood lighting.
Yet another way Lovett's spaces make Lovetteer's lives more convenient is the Weight Room, where many will get their workouts in to avoid the walk to or crowd at the Rec. Newly renovated, the Weight Room has equipment including a bench press, squat rack, dip station, and punching bag/boxing gloves.